Animal Wonders offers educational conservation, ecology, and animal programs to enhance appreciation and understanding of the natural world.

Our programs and activities are fun, educational, interactive, age-appropriate, and customized for children and adults. We create and bring our programs to your school for in-class workshops, after-school programs, as well as pre-schools/daycares, scouts, 4-H, FFA, summer camps, youth groups, senior living centers, scouting events, community events, library events, animal birthday parties, corporate functions, benefits, birding trips, or any special outing in Missouri or Kansas.
The beauty and genius of a work of art may be reconceived, though its first material expression be destroyed; a vanished harmony may yet again inspire the composer, but when the last individual of a race of living things breathes no more, another heaven and another earth must pass before such a one can be again. - William Beebe, 1906
Upcoming Events
Animal Wonders Summer Camp - Legacy Park; Celebrating our tenth year with LSPR, campers will experience a new wildlife adventure each day! Weather permitting, the campers go on daily nature hikes to explore the wildlife of Legacy Park. Bird watching data is entered on eBird so parents & campers can keep track of species observed at home. Campers also perform crafts related to each day's subject and of course, all of your favorite scaled and feathered friends from Animal Wonders are there daily! Our curriculum is based on the Project WILD series and matches national science standards. New in 2018, age appropriate camps - allowing for the maximum experience for each group. Subjects: Day One: Invertebrates, Day Two: Amphibians, Day Three: Reptiles, Day Four: Birds, Day Five: Wrap-up/Fun day.

Please note the ages & time changes!
June 18-23, 2018 - Ages 8-14, 9 AM - 12 PM; Ages 4-7, 1 PM - 4PM
June 25-29, 2018 - Ages 8-14, 9 AM - 12 PM; Ages 4-7, 1 PM - 4PM
July 9-13, 2018 - Ages 8-14, 9 AM - 12 PM; Ages 4-7, 1 PM - 4PM
July 16-20, 2018 - Ages 8-14, 9 AM - 12 PM; Ages 4-7, 1 PM - 4PM
July 30-Aug 3, 2018 - Ages 8-14, 9 AM - 12 PM; Ages 4-7, 1 PM - 4PM

Diversity of Life Program - August 4, 2018, 10:30 AM; Trails Regional Library, 202 N. Adams, Knob Noster, MO 65336
Diversity of Life Program - August 6, 2018, 10 AM; Trails Regional Library, 207 S Main St, Holden, MO 64040
Diversity of Life Program - August 7, 2018, 10 AM; Trails Regional Library, 1008 Main Street, Lexington, MO 64067
Lee's Summit, MO Community Diversity of Life Workshops Harris Park CC, All Ages :3 Weekly 1 1/2 hour, 7 PM Tuesdays Mondays September 17 - Oct 1, 2018; October 15 - Nov 5; 4 Weekly 1 hour glasses November 12-Dec 3, 2018. Open to residents and non-residents. Contact the Lee's Summit Parks Department to register at 816-969-1500.

Animal Wonders Birding 101 Legacy Park, All Ages: Join Animal Wonders to learn birding basics, tips for identifying birds at the height of Spring Migration and enjoy a guided tour to observe the wildlife of Legacy Park. Recommend to bring your own binoculars, field guides, and dress for the outdoors with moderate hiking. This class is designed for adults and families. Classes begin at 9 AM and typically last 3 hours, but can go shorter or longer depending on weather conditions. Saturdays October 13-27, 2018; contact the Lee's Summit Parks Department to register at 816-969-1500.

Animal Wonders Girl Scout Journeys & Badges Daisy, Brownie, Junior, Senior, & Ambassador opportunies; vist the Animal Wonders/Girl Scout Site for badge details. You schedule it, we come to you!!
Animal Themed Birthday Parties - Anywhere, anytime!! Three packages to choose from, educational and fun.
Several more public events in Missouri & Kansas in 2018 are in the works, will be posting them here as we get closer. Be sure to follow us on Facebook to see more photos, up-to date news, events, animal news, and more. The events listed above are open to the public, via registration unless stated. Hope to see you out there!!
It is difficult to say no to animals in need and we depend on our programs & donations to help fund the care and housing for our surrendered and rescued animals. However, the cost of taking in unwanted pets is very expensive. If you would like to help support Animal Wonders, it would be greatly appreciated.
---
Education

Each program is designed to give a better understanding of the natural world. The goal of Animal Wonders is to have our students leave a program feeling as strongly and appreciative of conservation and wildlife as our educators do. Students will learn about animal classification, animal behavior, ecosystems, terminology, endangered species, habitat improvement and so much more. Be sure to visit our Contact page for more educational links. Feel free to contact us if you still have questions after a program. One can ever stop learning!!

Experience

Celebrating our tenth year in 2018, Animal Wonders KC has worked for every public school district in the Greater Kansas City Metro, numerous municipal parks and recreation departments, libraries throughout NW MO & NE KS, a Girl Scout Community Partner, provided services for Kansas State University, University of Missouri, the National Wildlife Refuge System, Kansas City Royals, and many more. "Animal" Dan Cowell has been working with animals for more than 30 years including at institutions accredited by the American Zoo and Aquarium Association. Our goal has never been to present the most exotic or unique, but to provide in a safe, educational live animal presentation. We strive for our attendees to leave our program ready and anxious to keep learning, ready to help preserve our natural resources, and excited about wildlife! If a reference is ever needed, we'd be happy to provide plenty!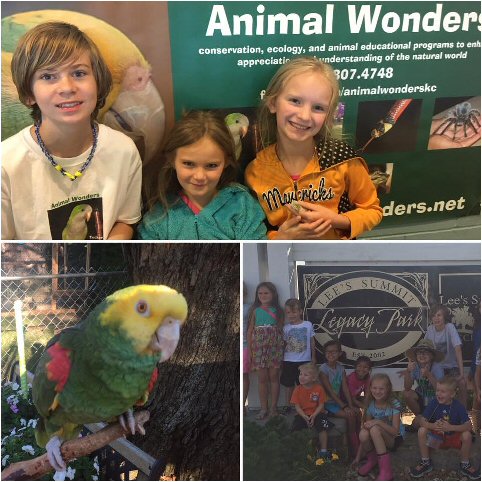 Animal Wonders, LLC © 2018
Animal Wonders
405 West 10th, Holden, MO 64040
816-807-4748
info@animalwonders.net